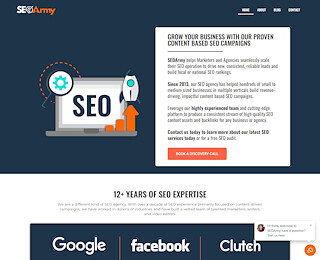 Content is a key driver of business success in our current digital landscape. Engaging, well-crafted content not only enhances your brand's online presence, but it also drives customer engagement, builds credibility, and fuels growth. At Writer Army, we understand the transformative power of content, and we're committed to helping businesses harness it. Our range of content writer services is designed to cater to your unique needs. Here's what we offer in-depth:
1. SEO Article Writing
Our SEO article writing services prioritize both readability and discoverability. Our expert writers create content that is both engaging to readers and optimized for search engines. By integrating relevant, high-ranking keywords into your articles and adhering to SEO best practices, we ensure that your content is found by the right people at the right time.
2. Website Content Writing
From compelling landing pages to persuasive product descriptions, our website content writing services focus on user experience and conversion. We work to understand your brand's unique selling proposition and the needs of your target audience, allowing us to craft website content that communicates your brand's value and encourages visitors to take the desired action.
3. Blog Writing
Our blog writing services are designed to engage, inform, and convert your target audience. We create posts that delve into topics relevant to your industry and audience, providing valuable information and insights. This not only helps establish your brand as a thought leader but also fosters a deeper connection with your audience.
4. Social Media Content
Our social media content services acknowledge the unique nature of each platform. We tailor content to fit the style, tone, and best practices of each social channel, ensuring your brand maintains a consistent, engaging presence across all platforms. This includes everything from catchy Twitter updates to immersive Instagram stories and insightful LinkedIn posts.
5. eBook Writing
Our eBook writing services offer comprehensive, long-form content creation. We work with you to plan, structure, and create eBooks that delve deep into topics relevant to your audience. Whether you're looking to educate your audience, generate leads, or offer exclusive insights, our eBooks provide immense value.
6. Press Release Writing
Our press release writing services help you make an impact in the media landscape. We craft press releases that not only comply with the stringent standards of press writing but also tell a compelling story. Whether it's a product launch or company news, we articulate your message in a way that attracts media attention.
7. Email Writing
Our email writing services prioritize personalization and engagement. We create emails that resonate with your audience, whether it's a newsletter update, promotional offer, or transactional message. By crafting compelling subject lines and persuasive body content, we help boost your email open rates, click-through rates, and conversions.
8. Video Script Writing
Our video script writing services help you leverage the immense power of video content. We create engaging, concise scripts that communicate your message effectively and captivate viewers, whether it's an explainer video, promotional ad, or educational content.
Partner with Writer Army for Your Content Needs
No matter the nature of your content needs, Writer Army is equipped to deliver. With our wide range of content writer services, we help businesses like yours create a powerful, engaging, and consistent online presence. Ready to take your content strategy to the next level? Reach out to Writer Army today. Let us be your strategic partner in content creation, propelling your brand towards unprecedented online success.
WriterArmy
800-240-5718
221 E Indianola Ave
Phoenix AZ 85012 US