Marketing Agency Content Writing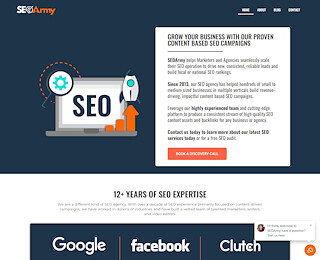 Marketing agency content writing is a nuanced field that harmoniously blends creativity, strategic thinking, and an understanding of digital marketing practices. At Writer Army, we believe that great content is the lifeblood of effective marketing, serving as the foundation for SEO, social media engagement, lead generation, and brand building.
But how exactly does the process of content writing in a marketing agency work? This article takes you behind the scenes of our content creation process. Feel free to keep reading to learn more about our outsourced & white label agency content writing services. You can also reach out any time to speak with a representative from Writer Army.
Defining Marketing Agency Content Writing
Marketing agency content writing is the process of creating, editing, and optimizing written content for marketing purposes. It's about creating narratives that connect with audiences, instigate action, and ultimately drive business objectives. Whether it's website content, blog posts, social media content, email newsletters, or white papers, the primary goal remains the same: to engage, inform, and persuade.
The Content Creation Process at Writer Army
1. Understanding Client Needs
Our content creation process begins by understanding the client's needs, objectives, and target audience. We familiarize ourselves with the client's brand voice, unique selling points, and marketing goals to create content that aligns with their vision.
2. Research and Planning
Once we've understood the client's needs, we conduct in-depth research and create a content plan. This involves identifying relevant topics, performing keyword research, and outlining the structure of the content pieces.
3. Content Creation
Our team of professional writers then brings the content plan to life. With a knack for storytelling and a deep understanding of marketing, our writers craft engaging, informative, and persuasive content that resonates with the target audience.
4. Editing and Proofreading
To ensure top-notch quality, every piece of content goes through a rigorous editing and proofreading process. This involves checking for grammatical errors, enhancing readability, and fine-tuning the content to meet the highest standards.
5. SEO Optimization
Our content isn't just well-written; it's also SEO-friendly. We integrate relevant keywords naturally, craft compelling meta descriptions, and ensure the content is optimized for search engines to help improve online visibility.
6. Client Approval and Revision
Before the final deployment, the content is sent to the client for approval. We offer revisions as needed to ensure the content fully meets the client's expectations.
7. Content Deployment
The approved content is then published on the designated platform(s), whether it's the client's website, blog, social media pages, email newsletters, or other channels.
Shaping Success Stories with Writer Army
Marketing agency content writing is a process that demands creativity, precision, and a deep understanding of marketing dynamics. At Writer Army, we masterfully navigate this process to deliver content that not only captivates audiences but also drives business growth. Partner with us and let's shape your brand's success story together.
In the meantime, we encourage you to read reviews about us on social media and the top review websites. We look forward to showing you why Writer Army is a top-rated marketing agency content writing service.
WriterArmy
800-240-5718
221 E Indianola Ave
Phoenix AZ 85012 US